Sheesh, first Tiggerpaka, now Kit Kat?

Has the world gone Mad??
Turns head and whispers--Mum!
**Big (fake) Smile**
Yes, Let's Welcome my Newest Follower: Kit Kat!!

Kit Kat has 2 blogs:
The First one is:
Kit Kat's Ode to Kit Kats
(catchy title, I must admit!)
On this Blog Kit Kat records her many amazing adventures!
You can check it out at:
(http://odetokitkats.blogspot.com/)
HerOther Blog is a Journal Blog:
In this Blog she records all her fun antics of the Day!
You can Check it out at:
http://kitkatjournal.blogspot.com/
Sooooo, as much as it KILLS me to do this-----
Let's give Kit Kat a big Tiggerific Welcome!
**cannons shoot out kit kats**
Blecchhhh!!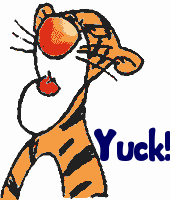 **walks off stage and mutters---2 perfectly good confetti cannons--ruined**